Sultana © Jennie Avila
Guitar and Vocal - Jennie Avila · Violins and Mandolin - Jay Ansill · Upright Bass - Ralph Gordon
While touring in the Chicago area, Folk DJ, George Brown (Dupage College Radio) listened with interest as I spoke enthusiastically of my new Civil War ghost story song. George said, "I wish one of you folk musicians would write about the Sultana. It was the worst maritime disaster in US history. More passengers died than when the Titanic sank, but it got buried in the news because Lincoln's funeral train was crossing the country." I had no intention of writing more Civil War songs. I found war of any kind to be an unbeautiful and difficult subject. However, a year later I began working with the Boonsborough Museum of History, writing songs inspired by Civil War exhibits, and I recalled George Brown's challenge.
And so I learned that at the end of the war, thousands of Union prisoners of war, many no more than walking skeletons, made their way from the Confederate POW camp in Andersonville, GA to the banks of the Mississippi in Vicksburg (Camp Fiske, MS), hoping to be shipped home to their loved ones at last. The Federal government paid $5 per soldier boarded, and steamboat captains competed for passengers. Soldiers bribed and jostled for a space on the paddlewheeler, Sultana, which was docked for boiler repairs. So as not to miss this huge financial opportunity, Captain J.C. Mason simply patched the boilers and stuffed more than 2000 people on a boat designed to bear only 376. Spring floodwaters strained Sultana's engines more than could be borne, and there is some speculation about sabotage (for many, the war was not over). A little north of Memphis, TN around 2AM on April 27, 1865 the boilers blew up and the Sultana sank. Ironically, approximately 300-400 people survived... the legal number of passengers that should have been allowed on board.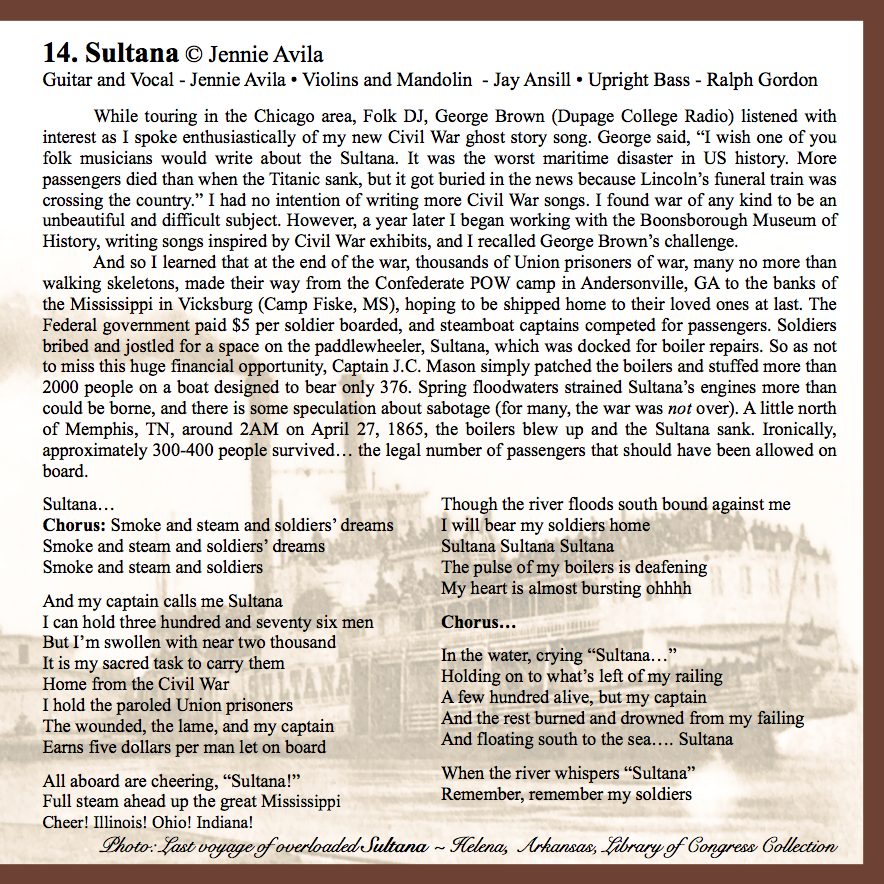 CD booklet page
Sultana...
Chorus: Smoke and steam and soldiers' dreams
Smoke and steam and soldiers' dreams
Smoke and steam and soldiers
And my captain calls me Sultana
I can hold three hundred and seventy six men
But I'm swollen with near two thousand
It is my sacred task to carry them
Home from the Civil War
I hold the paroled Union prisoners
The wounded, the lame, and my captain
Earns five dollars per man let on board
Chorus...
All aboard are cheering, "Sultana!"
Full steam ahead up the great Mississippi
Cheer! Illinois! Ohio! Indiana!
Though the river floods south bound against me
I will bear my soldiers home
Sultana Sultana Sultana
The pulse of my boilers is deafening
My heart is almost bursting ohhhh
Chorus...
In the water, crying "Sultana..."
Holding on to what's left of my railing
A few hundred alive, but my captain
And the rest burned and drowned from my failing
And floating south to the sea.... Sultana
When the river whispers "Sultana"
Remember, remember my soldiers
Chorus...