Love Beyond the Grave © Jennie Avila
Guitar and Vocals - Jennie Avila
Col Henry Kyd Douglas and Annie Dorsie Washington were a Civil War "Romeo and Juliet". Annie's father was a Union sympathizer and Kyd had served with the Confederates. The song is inspired by Kyd's heartfelt, confidential memorial to Annie entitled "Thy Love Beyond the Grave". The memorial was formally printed, but stamped "Not To Be Shown". The original is in the archives of the Boonsborough Museum of History.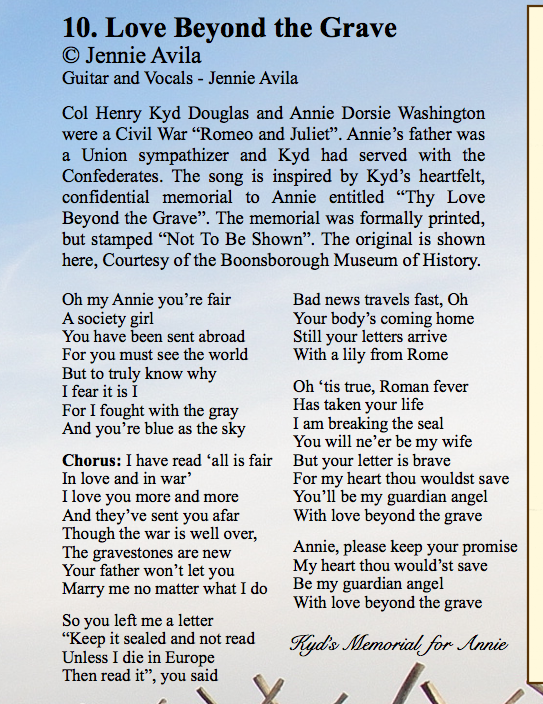 CD booklet page
Oh my Annie you're fair
A society girl
You have been sent abroad
For you must see the world
But to truly know why
I fear it is I
For I fought with the gray
And you're blue as the sky
Chorus: I have read 'all is fair in love and in war'
I love you more and more and they've sent you afar
Though the war is well over, the gravestones are new
Your father won't let you marry me no matter what I do
So you left me a letter
"Keep it sealed and not read
Unless I die in Europe
Then read it", you said.
Bad news travels fast, Oh
Your body's coming home
Still your letters arrive
With a lily from Rome
Chorus...
Oh 'tis true, Roman fever
Has taken your life
I am breaking the seal
You will ne'er be my wife
But your letter is brave
For my heart thou wouldst save
You'll be my guardian angel
With love beyond the grave
Chorus...
Annie, please keep your promise
My heart thou wouldst save
Be my guardian angel
With love beyond the grave