Pass to Cross © Jennie Avila
Guitar and Vocals - Jennie Avila · Fiddle - Robbie Caruthers · Banjo - Paul Mackrell · Upright Bass - Ralph Gordon (Recorded 'live' in Robbie's kitchen with my H2 recorder)
When Doug Bast purchased a used Civil War book collection he showed me the pile that extended a good six feet long and 2 feet high. He invited me to reach into the jumble and choose a book to borrow. I strolled down the line and spotted a book cover with pencil drawings. Instantly enchanted by the title, "James E. Taylor Sketchbook: with Sheridan up the Shenandoah Valley in 1864", I tucked it in my bag and brought it home. Just as instantly, my fiancé, also an artist, fell upon the pages and exclaimed, "Rebecca Wright!? She is one of my ancestors!" Miss Wright, and a certain Mr. Laws, became General Sheridan's spies for a day. Thomas Laws worked his master's farm in Berryville, and had a written pass that permitted him to cross through Confederate lines to deliver vegetables to the family quarters in Winchester, VA. 'Pass to Cross' is my interpretation of the short story that accompanied the portrait of Rebecca Wright.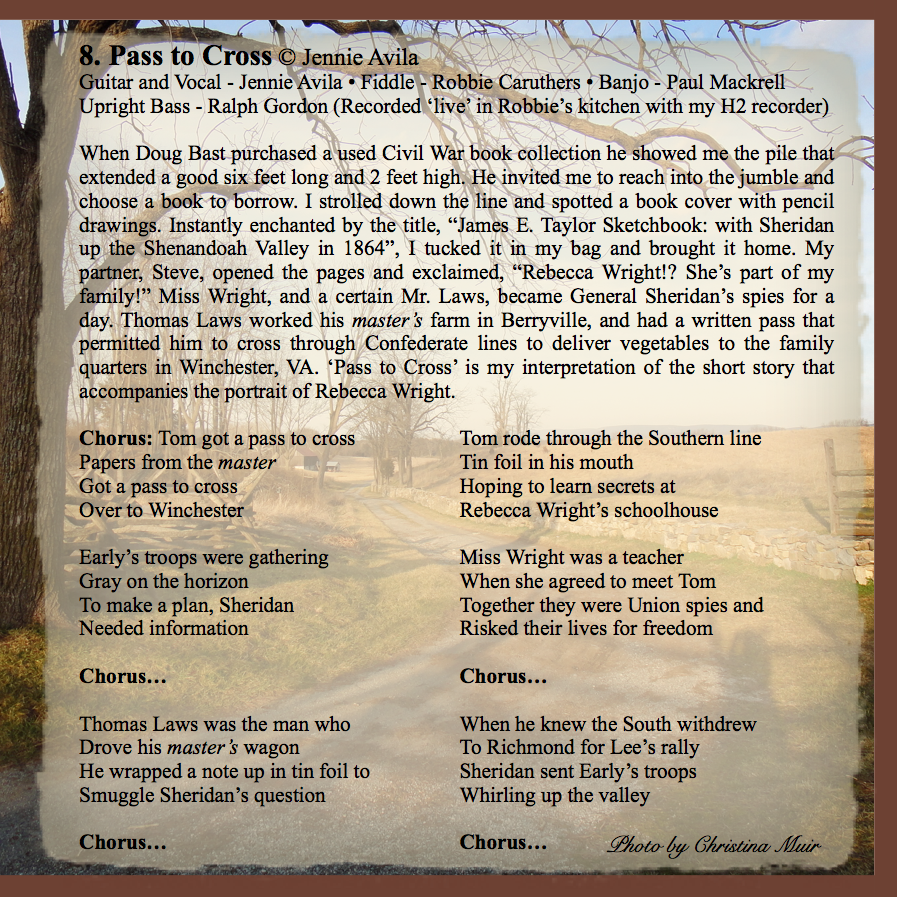 CD booklet page
Chorus: Tom got a pass to cross
Papers from the master
Got a pass to cross
Over to Winchester
Early's troops were gathering
Gray on the horizon
To make a plan, Sheridan
Needed information
Chorus...
Thomas Laws was the man who
Drove his master's wagon
He wrapped a note up in tin foil to
Smuggle Sheridan's question
Chorus...
Tom rode through the Southern line
Tin foil in his mouth
Hoping to learn secrets at
Rebecca Wright's schoolhouse
Miss Wright was a teacher
When she agreed to meet Tom
Together they were Union spies and
Risked their lives for freedom
Chorus...
When he knew the South withdrew
To Richmond for Lee's rally
Sheridan sent Early's troops
Whirling up the valley
Chorus...